Sports Flashes, India's prominent multi-sports app, which runs the 24×7 Sports Radio Channel of India, has announced that it has acquired the rights from the UAE-based Channel 2 Group Corporation to broadcast, promote, and distribute audio content during the ICC World Cup 2019, globally.
With the establishment of Cricket Radio over a decade ago, Group Corporation is an exclusive broadcast partner with the International Cricket Council (ICC) and holds exclusive global audio (Digital and Analogue) rights for all their live events up until 2023.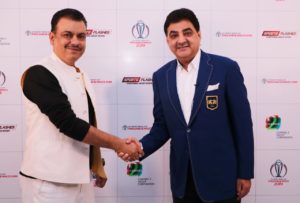 Channel 2 and Sports Flashes will be using the services of world renown commentators and ex-cricketers. Channel 2 Group Corporation is the exclusive ICC global audio rights holder for the World Cup. Both companies are collaborating for creating marketing and distribution of audio content of the ICC World Cup 2019, to produce, broadcast, and distribute live feed from England for global audiences.
---
"We are trying to be the Netflix of sports in India": Sports Flashes CEO Raman Raheja in Interview
---
The live audio feed would be broadcast across the Sports Flashes app and web platform besides multiple other platforms, including FM radios, mobile operators, and digital platforms, around the world. The estimated reach of global audience is more than 1 billion fans during the forthcoming World Cup from May-July 2019.
Ajay Sethi, Chairman of Channel 2 Group said, "I am happy to be associated with Sports Flashes and creating a world class experience for cricket loving fans around the world. We shall be promoting the audio commentary to reach 100 plus countries and 1 billion people around the world."
On the occasion, Raman Raheja, Founder of Sports Flashes, said, "After the phenomenal global success of the India-West Indies series and thereafter expanding our footprint in India through the current India Australia cricket series, we are getting ready for the Mega World Cup 2019. We intend to reach to an audience of 1 billion cricket fans with live feed of 48 ODIs from England. We shall be tying up with various radio and digital platforms for live feeding of the audio content. The biggest cricket event of the world will reach far and wide with the best of talents giving ball by ball updates."
---
Jio and Hotstar Team Up to Stream Cricket Matches in India for the Next Five Years
---
Channel 2 group also holds live in-match clip rights for ICC live events in addition to Video Clip and Out-of-Home rights. It also holds audio rights from other cricketing boards for major events like the Asia Cup.
Radio Sports Flashes was launched in January 2018 as 24×7 internet radio channel, that broadcast sports content, like live chat commentaries, talk shows, special sports programmes, expert comments, sports news and updates, audio documentaries, university sports, and 'sportainment' content. It is the official global audio broadcast partner of Indian cricket and is available on the Sports Flashes mobile app and at sportsflashes.com.
A word from our Sponsor: Looking for Content Marketing support? Click here.