As the world attempts to connect technology to our every-day lives in every possible way, whether it is ordering online groceries or instructing your home to take care of itself, India might well be at the forefront. For the first time, IITians have brought 'The Things Conference India', which kick-started at HICC, Hyderabad today.
The two-day conference scheduled for 9th-10th of November is witnessing global technology leaders, governments, technology experts, academia, research organisations, and industrialists, who are coming together to discuss the immense possibilities with IoT and LoRaWAN. These technologies can thrust India towards building Smart Cities in a cost-effective and proficient way. The event is presented by CyberEye, a technology company with a vision to build a smart and secure world. CyberEye is supported by iB Hubs, which provides assistance to startups.
The conference, which is also being hosted for the first time in Asia, witnessed top brass like, Jayesh Ranjan, Principal Secretary – IT, Govt. of Telangana; Ramanan Ramanathan, Mission Director – Atal Innovation Mission; Karuna Gopal, President of Foundation for Futuristic Cities; and other leaders who play a key role in developing India into a smart nation. Global leaders in IoT and LoRaWAN, such as Wienke Giezeman, CEO and Co-founder, The Things Industries; and Johan Stokking, CTO and Co-founder, The Things Network; Prasad Kandikonda, Vice President of Software Engineering at Multi-Tech Systems Inc.; Sanjiv K. Aiyar, Group Advisor and Board Member, iB Hubs; also attended the conference.
---
Indians Want IoT to Run Their Groceries, National IoT Survey Reveals
---
"Many countries across the world have recognized the potential of LoRaWAN and are implementing the technology to build Smart Nations. The changes it could bring in India are immense. LoRaWAN can reduce the costs involved in building Smart Cities multifold. With this technology, a Smart India is not very far," Ram Ganesh, the CEO of CyberEye, said.
Smart and connected cities will bring substantial improvements in the urban way of life that would impact one-third of the Indian population. Smart cities also influence the core infrastructure elements, including solid waste and energy management, efficient urban mobility, and public transport. Smart cities are expected to lead to robust and sustainable e-governance.
LoRaWAN is a Low Power, Long Range Wide Area Network technology. It enables sending small packets of data over very long ranges with extremely low cost and low power requirement. It can cover a range of up to 2-5 km in urban areas and up to 15 km in rural areas. By optimising the battery consumption of IoT devices, LoRaWAN can make them work for years together. This technology basically cuts down the costs involved multi-fold and paves a golden path to offer many advantages in building smart cities and smart nations.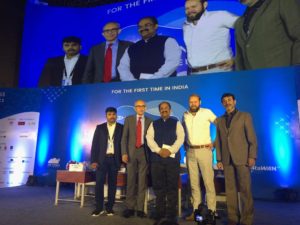 Considering the size of India, geographically as well as in terms of population, LoRaWAN gets a wide playing field to expand and grow. Especially, since according to NASSCOM, the IoT market in India is expected to reach USD 15 billion by 2020. A study by the Consumer Technology Association (CTA) has also found that the use of connected devices in a home environment can decrease domestic energy consumption by at least 10%. Its win-win for people, business, and governments.
Wienke Giezeman, the Founder and CEO of 'The Things Network' said, "We see a vibrant community in India.  We are glad to be here and India will be a great avenue for LoRaWAN. We strongly believe in the capabilities of the tech community in the country. We're very happy that India is also on the frontlines of adopting emerging technologies with the efforts of companies like CyberEye. We are partnering with CyberEye to provide professional services in India. We are really excited to work with them. "
Kavya, CEO, iB Hubs quoted, "It's great to see such a huge response for the first ever 'The Things Conference India'. We are very glad that CyberEye is taking successful steps in bringing the new-age technology to India. It gives us a boost to see startups making such a difference. We would be supporting many more startups in future which can drive the nation forward."
---
SenRa: Connecting IoT in India, One City at a Time
---
More than 300 delegates from across the world, including industry leaders in Governments, IoT, developers, corporates, governments, thought leaders, and academia have come together to discuss the immense possibilities and overcome the challenges in building smart applications at scale.
CyberEye is a technology company that builds cutting-edge technologies to impact masses. With an intention to build a team of hackers and makers, CyberEye has trained more than 2500 professionals, scientists, state and central defence personnel, faculty, and students. Its clientele counts the likes of DRDO, Government of Telangana, Government of Uttar Pradesh, DSCI, SSC NASSCOM, Telangana State Police, Himachal Pradesh Police, EY, and NASSCOM. The company is also associated with international organisations like Cyber Security Group Israel, and Cyber Composites Ltd. UK. Supported by iB Hubs, it is also a member of The LoRa Alliance, an SIG (Special Interest Group) Member of NASSCOM on Cyber Security, a member of Data Security Council of India (DSCI), and many more.
iB Hubs is a pan-India startup hub that assists startups. Within 2 years of its launch, iB Hubs has supported 100+ startups, and has given 25,000+ trainings in entrepreneurship and emerging technologies. With a strong foothold across 60+ countries, iB Hubs has established 45 hubs across the globe. The company is also planning to set up 2500 hubs across India by the end of 2019.
The Things Conference is an initiative of The Things Network, which has built the largest open LoRaWAN network in the world with coverage in over 50+ countries. With more than 50,000 developers in its community, it offers abundant data connectivity.