Google's popular Nexus 7 tablet is finally available in India and is on sale on the Google Play store for a price of Rs 15,999.
According to the page on the Google Play store, the 16 GB device will start shipping from 5 April. Asus announced in February that the device would be 'officially' launched by the first half of this year. We had also reported that Google had recently added the India page to its Nexus devices which was a hint at this.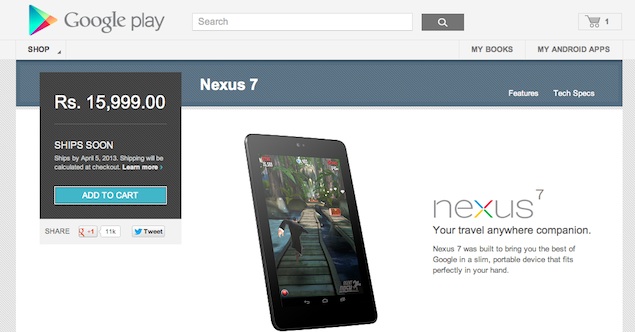 Interestingly, this is not the first time the Nexus 7 is made available in India. Yes, it is the first time being sold directly through the Google Play Store but In November last year, Asus, the manufacturer of the Nexus 7 started selling fixed quantities of the Nexus 7 in Indian markets through its retail partner Chroma for a price of Rs. 19,999.
The Nexus 7 was first showcased in June 2012 and went on sale from mid-July. At the time of its launch, the 8GB Wi-Fi version of Nexus 7 was available for $199, but it has since been replaced by a 16GB version at the same price.
The tablet runs Android Jelly Bean (version 4.1) and is powered by the Nvidia Tegra 3 quad-core processor, which clocks at 1.3 GHz. The Nexus 7 comes with a 7-inch IPS display screen with a resolution of 1280×800 pixels and pixel density of 216 ppi. The tablet has 1GB of RAM, a 1.2 megapixel front camera and a 4325 mAh battery. It also includes NFC functionality.
Well, Rs 15,000 is definitely a decent price but considering what it is available for in the U.S. it is still a tad bit costly. None the less, you can get official warranty and stuff like that by purchasing it here.
So, what are you waiting for, head to the Play Store to check it out.