Do you like to play in the mud, get dirty and have fun during summer? If you are the type of person who doesn't have a care in the world (or who likes to think so during the oh-so-warm summer days), then the protection of your smart-phone is probably something that weighs heavily in your thoughts. It would be a shame to destroy your fabulous gadget just because you got it wet while on the beach with your friends. Luckily for you, the smart-phone industry has evolved significantly in the past few years.
It doesn't matter if you are using your phone for business, or simply for leisure, because these devices will deliver, and in a big way! Many users appreciate the fact that they can use the several apps available on Google play-store for business, while others are fascinated by the numerous social media tools and games put at their disposal. Nevertheless, beside the many features like video-chat, gaming apps and internet connection, smart-phone developers have come up with an awesome new technology that protects your mobile device from water and dust. Waterproof devices have rapidly become the latest buzz in the technology industry, so let's take a look at the top three waterproof smart-phones of 2013.
1. Samsung Galaxy S4 Active
The Samsung Galaxy S4 Active is one of the most powerful smart-phones available on the market. Samsung was always known to create solid devices which offer great power and a long-lasting battery, and Samsung's android flagship will definitely not disappoint. The 13 megapixel camera may have been downgraded to a 8 megapixel one, but it was enhanced with other great features. The super-fast Snapdragon 600 processor and 1.9 GHz Exynos Octa core processor is the pinnacle of modern smart-phone technology and it will ensure that you get the most out of your Android experience. One thing that we should definitely mention about the S4 Active is its Aqua Mode which can enhance photos and videos that are taken underwater.
2. Panasonic Eluga Power
You might not have heard of the Panasonic Eluga Power until now, but it is probably time you found out. The truth is that Panasonic has never been very interested in creating many smart-phones, but when they do decide to release a model, it is a superb one. The Panasonic Eluga Power has passed the water-resistant test with flying colors, and it also benefits from a great design and powerful processor. The 8 megapixel camera will be more than enough to capture beautiful photos, and the 1.5 GHz Dual Core Qualcomm Snapdragon processor will offer enough power for most Android apps.
3. Sony Xperia Z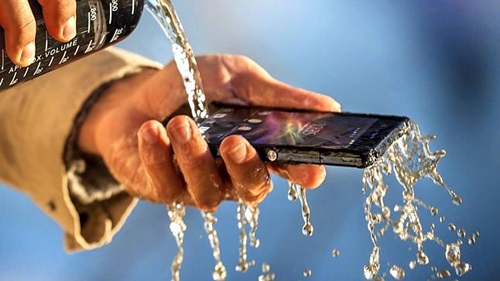 A few months ago, Sony released their most advanced smart-phone model: the Sony Xperia Z. This full-featured smart-phone is a masterpiece of modern technology which proves the expertise of Sony in the field of mobile design. It comes equipped with a 1.5GHz quad core CPU processor, 2GB RAM and a wonderful 13 megapixel camera. Having passed the IP57 verification, we can safely say that you can immerse the phone underwater for 30 minutes. The slick design, numerous features and powerful processor will exceed expectations and deliver the best smart-phone experience possible. As a matter of fact, most Sony Xperia phones have shown incredible performances.
In conclusion, there are several waterproof smartphones available at the moment. The Iphone 5, for example, may not be waterproof on its own, but you can protect with the help of a special case that has a reasonable price. Nevertheless, in this top we wanted to present only the best smartphones from some of the most reputable names in the industry.
About the Author:
Anna Robeson is a tech enthusiast and freelance writer who is always interested in the latest news related to SEO, social media and smart-phones. She advises readers to check out TenMania.com for more information related to technology.