A smartphone can do almost anything. However, if love listening to music, or like to consume lot of media content on your phone, which Smartphone would be your best pick? Moreover, what are the things which make a smartphone suitable for music? It's really not how loud the speakers are, but rather the quality of music that they produce. Then there's the issue of battery life, quality beats and also storage. If you love music, you should be able to carry all your favorite tracks and play it without caring much about the battery life. Keeping these in mind, here are some of the best phones for music.
1. HTC One:
HTC One is certainly among the top smartphones in the world market today. It has an awesome design both in terms of hardware and user interface. One has a striking feature– it has front-facing stereo speakers, rather than the traditional placement in the back. It comes with HTC BoomSound, which has been advertised fiercely by HTC. And it's no marketing gimmick. They are so good, that you won't need to carry portable speakers to enjoy quality audio without a headphone. The best thing is that you can enjoy beats audio without plugging in the earphones. Even when the audio is at its maximum, HTC One doesn't give any sort of distortions. It comes with 32 GB of internal storage, but without any expansion slots. But 32 GB is more than enough to carry music and vids, especially if you have such high quality audio hardware with you. Other features of HTC One like a 1080p screen, or the new BlinkFeed, don't hurt either. For a price of around INR 38,000 HTC One is guaranteed to deliver an awesome music experience.
2. Micromax Canvas Music
A88 Canvas Music is a new member of the Canvas family. It is clearly meant for those who cannot get enough of music. In the box you would find JBL headphones. It also gives access to free music on MLive service. The Micromax Canvas Music price is set at around INR 8,500 which is quite low, especially if you consider that the JBL Tempo headphone itself costs INR 2,000+. And if you add to that a 4.5 inch screen and Android 4.1 Jelly Bean, the phone is irresistible. Though there are JBL headphones, sadly the audio output is quite average. It's pretty much like the stock Android player, which doesn't have all the enhancements which the higher end phones bring to table. It comes with 4 GB of internal memory, which can be extended up to 32 GB with microSD cards. But that price, a decent screen and JBL Tempo headphones, really make Micromax Canvas Music an enticing product.
[adrotate banner="16″]
3. Sony Xperia Z
When it comes to music and entertainment, Sony phones have always been the winner. Long before iPods and iPhones were in existence, Sony's Walkman was the ruler for music on the go. The Walkman phone series were neglected for some time, but with Xperia series, Sony doesn't leave any stones unturned. Thepresentation of the music in the media player, the overall control of audio output and the quality of streaming are strong points of the Xperia Z. It has Google Music, so you don't always have to worry about the space. There's Facebook integration to the media player too, so you can stay connected more. It comes with 16 GB of internal storage, expandable with microSD cards. It's Sony's flagship phone, and comes with awesome features like shatter-proofing and water-proofing! It's priced around INR 34,000.
4. Samsung Galaxy S4
Galaxy S4 has best of everything, so why not music? When placed near the HTC One's BoomSound, it does look a bit dull. But the overall audio output is certainly better than most of the phones. With earphones on, the device performs just as you expect. The audio has all the right ups and downs, beat quality is delivered just the way it should, and even in the maximum volume it's gracefully loud. Galaxy S4 comes in 16 or 32 or 64 GB variants, and allows for memory cards. So, you wouldn't end up worrying for space anytime sooner. As for the overall device, it doesn't need introduction. Galaxy S4 is packed with so many features that it would take you weeks to exhaust using all of them. Priced at around INR 40,000 it is really in the upper side of the price ladder. But, to buy the best, you have to pay a premium anyway.
5. Apple Iphone 5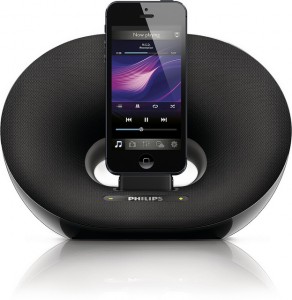 Apple iPods probably were one of the most successful innovations of 21st century. And then came the iPhone. Now, iPhone 5 is undoubtedly one of the best phones in the market. iPhone 5 is premium on every aspect. So, what makes it among the best in Music? It's the iTunes Store. Apple has the largest digital media in the world. It has every sort of media that's digital. With its Radio service starting with iOS 7, it will become an even better companion for the music lover. The much hyped apple earPods are a great way to listen to music too. But the price in India, is usually exuberantly high, as unlocked models are only available. It's available at a price of around INR 41,000 with the entry level model. However, to really use iPhone 5 as your music buddy, you should have an Apple ecosystem (at least a Mac). It's not impossible to do with Windows, but Mac makes it easier.
These are some of the best that today's market has in offering. You wouldn't need a phone which can only play music, and is mediocre in everything else, (because you have dedicated music players for that!). These phones are a mixture of best features, designs and hardware. But your needs may need different things. Hence, choose carefully.
About the Author
Ashwin works with Mysmartprice.com which is a price comparison website that helps users find the best price of mobiles, books, camera and lots more. Ashwin is a graduate of State University New York with an MS in Information Systems and an MBA from Amrita School of Business Bangalore. He writes on smartphones, gadgets, technology , ecommerce and marketing.
Image Credit: QuickMobile Romania